DOWNLOAD EA CRICKET PC GAME 2017 (Highly Compressed)
Cricket game is most popular and addictive sports game in india. It becomes more and more crazy with time for youngsters. If you are passionate about cricket then you will surely like this game. Kids are already crazy about this cricket game because contains many other additional surprises.
System Requirements for EA SPORTS CRICKET 2017 PC game:
CPU: Core 2 Duo
RAM: 1 Gb
OS: Windows XP, Windows 7, Windows8, Windows Vista, Windows 10
Video Card: DirectX 9.0c Compatible 3D-accelerated 32 MB video card (NVIDIA GeForce2+ / ATI Radeon 7500+ / Intel 865, 915)
Free Disk Space: 2 GB
How to Install & Play Cricket 17 PC Game?
Follow this step by step guide.
Download Archive from download link.
Right click on file "Cricket17 by thepcgames.net.rar" and click on "Extract here". You need winrar for it.
Right click on file "Cricket 17 by Profijee.7z" and click on "Extract here" again.
Now go to your documents and delete any cricket 07, 09, 12 or 13 or 16 folder you have there. If you do not delete it, you will get old teams and roster in the cricket 17 too. So you need to do it as shown below.
Now you need to copy the folder named "EA Sports(TM) Cricket 07" into your "Documents" folder from where you deleted the old folder (if you already had it). It is the team roster folder and your teams names players etc will load from here automatically.
Once you have copied that, now double click on file "Cricket17.exe". It will ask to browse the folder for main game. Browse and select the folder named "Cricket 17" and select OK. You need to do it just 1st time. Next time it will load automatically. As shown below in image.
Note for Windows 8, 8.1 and 10 users (Important):
Right click on the game icon and click on "Properties".
Click on the "Compatibility" tab.
Click on the button below saying "Change Settings for All Users".
Press Apply and OK button.
Refer to the image below if you cant understand above steps.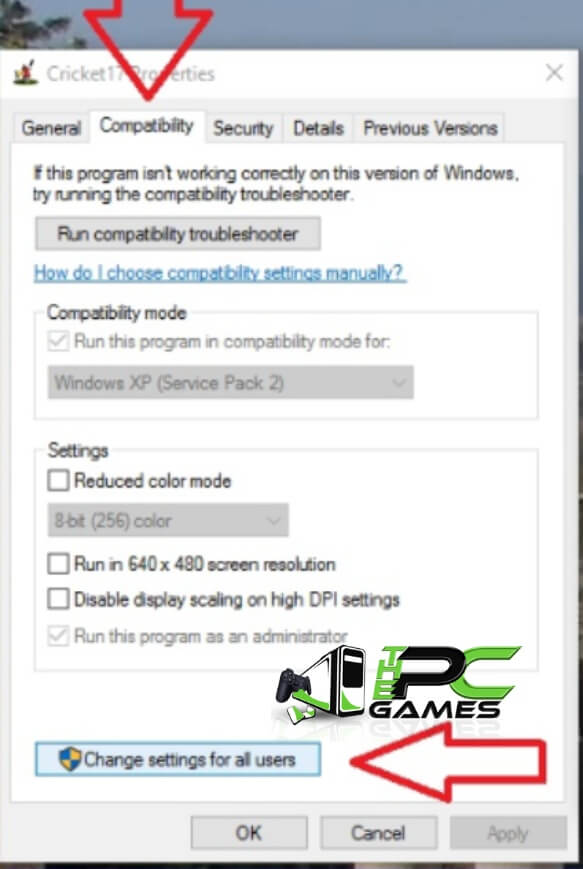 How to Load Roster in Cricket 17 PC Game?
If you don't know how to load roster inside the game, or how to play T20 etc and load them, just follow the instructions given in steps via images below.
Extras and Tools:
This game also comes with extra features and tools that you will get in the archive downloaded from here. Given below is the list of these extras and tools and instructions on how to use them. If you wanna use them, simply follow the instructions step by step as given below.
This is the folder with all the extra kits for tournaments, series and matches. It contains all the kits i.e IPL, PSL, CPL, BBL, T20 and ODI series. If you wanna use these kits, just copy your desired kit from this folder and paste it into the main game folder that is "Cricket 17". Click on replace if it asks for it.
Just copy the kit file from Kits Pack folder and paste into the Cricket 17 folder. Not the complete kits folder.
2- World Cup Fixtures Folders:
You will get 2 folders named "Fixtures ODI World Cup (2015)" and "Fixtures ODI World Cup (2016)". These are the world cup fixtures folders. If you wanna play these world cups in cricket 17, Open the folder and copy the .rsg file from inside and paste into the "Cricket 17" main game folder. And start the game to play.
3- Overlay Menu Pack (Cricket 17):
This is the folder with the overlay files like logos and on screen elements that you see while playing the game. It contains logos and watermarks for almost every channel like PTV, Geo Super, Star Sports etc.
Open the folders of the overlay packs you want until you get the files. Copy these files (usually these are .big and .fsh files) and paste into the main game folder (Cricket 17).
4- Softwares (Cricket 17)
There are 3 extra softwares in this folder.
Fraps:

You can take images and record videos while playing the game with it. Just install and use.

Player Editor:

You can edit or replace any player of any team you want.

ResChanger:

Use this tool to change the screen resolution of the game to best fit your screen size. For example, you can chose 1366 x 768 if you are playing this game on a laptop. This will make it perfectly fit into the screen of your laptop in full screen mode.
Cricket 17 Pc Game Complete Instructions Image:
Please Note: Everything mentioned in the Extras is not required or necessary to play the game. It is just optional, Use it if you want or otherwise skip it and just play the game.
EA CRICKET 2017 PC GAME (NEW EDITION)
Reviewed by
Technical Lucky
on
July 06, 2018
Rating: